COG Thread Facelift / Minimally Invasive Blepharoplasty
Ageing of Face and Neck:
Intrinsic (Chronoageing) and extrinsic ageing factors
What is Photoageing?
Glocau classification
Kligman rhytid classification
Necessary anatomic considerations
Facial nerve (course, branches etc)
Superficial temporal artery and vein
Facial artery and vein
Parotid duct (Stensen)
Superficial Muscular Aponeurotic System (SMAS)
Anatomy and Function of Eyelids
Necessary anatomic considerations
COG threads
Philosophy behind threads with side barbs
Indications - Contraindications
Types of COG threads
Advantages of threads with cannula
Photography - Consent forms - Patient treatment file
Treatment Protocols: 
Mini facelift
Brow reposition
Neck lift
Possible complications and how to avoid them
Secrets of success
Post-treatment instructions
Combining Cog threads with blood derivatives 
What is autologous mesotherapy
Getting familiar with the centrifuge
Differences between PRP-PRF-CGF
How long does it last?
Injecting blood derivatives through the threads
Minimally invasive Blepharoplasty
Plasma Lift Systems
Anesthesia
Minimally invasive Blepharoplasty techniques
How long does it last?
Comparison with surgical Blepharoplasty
Secrets of success
Business of non surgical Facelift and minimally invasive Blepharoplasty
Advanced Marketing and Management
Questions & Conclusions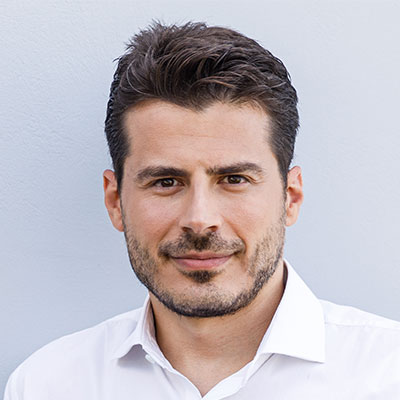 Christos Krasadakis
GREECE
Dr Christos Krasadakis graduated from the School of Dentistry, University of Athens, in 2006. Following that, he studied at the Medical School, University of Athens, and graduated in 2010. In 2011, he worked as a resident in General Surgery at Evangelistria Hospital of Tripoli, Arcadia.
Since 2012 he has been a member of the Department of Oral and Maxillofacial Surgery at KAT General Hospital in Athens (one of the biggest hospitals in the Balkans) and in 2016 he successfully completed his residency training.
Since the year 2016 he has been working as Consultant in the Department of Oral and Maxillofacial Surgery at KAT General Hospital in Athens.
He has performed and participated in numerous aesthetic, oncologic and reconstructive surgeries in the oral, head and neck area. Since 2015, he has been a member of the Postgraduate Course in Metabolic Bone Diseases of University of Athens. He has also delivered numerous presentations in Greek and international scientific conferences.
Over the last several years he has been practicing in facial aesthetics and facial injectables (Botox, Hyaluronic Acid, Threads, Blood Derivatives). He is also the head trainer of the Australasian Academy of Dento-Facial Aesthetics in Europe, focusing on training doctors to incorporate facial injectable treatments into their daily clinical practice.
Since the year 2017 he has been the President of the Facial Esthetic and Rejuvenation Academy of Greece.
In December of 2019 he was accredited as an Honorary Fellow of the International Academy of Facial Aesthetics in New York.
Hands-on:
• Training on facial injection mannequins
• Treatment plan and training on patients (1 patient per 2 participants)
Participants are certified by FERA Greece 
Prerequisite : Prior certification in PDO threads / Mesotherapy / Blood derivatives or previous experience is mandatory 
Course duration : 2 days
What is included : Cog threads training manual , Certification, 4 Cog threads per participant, breakfast and lunch for 2 days


email
Need more information?
Send us a message with your queries and we will respond directly to you


call
Call us
Talk to an omnipress employee by phone for any questions
(030) 210 2222637 (9.00am-06.00pm GMT+2)